Hall of Fame Member Biographies
Benedictine Monks of St. Gregory's Abbey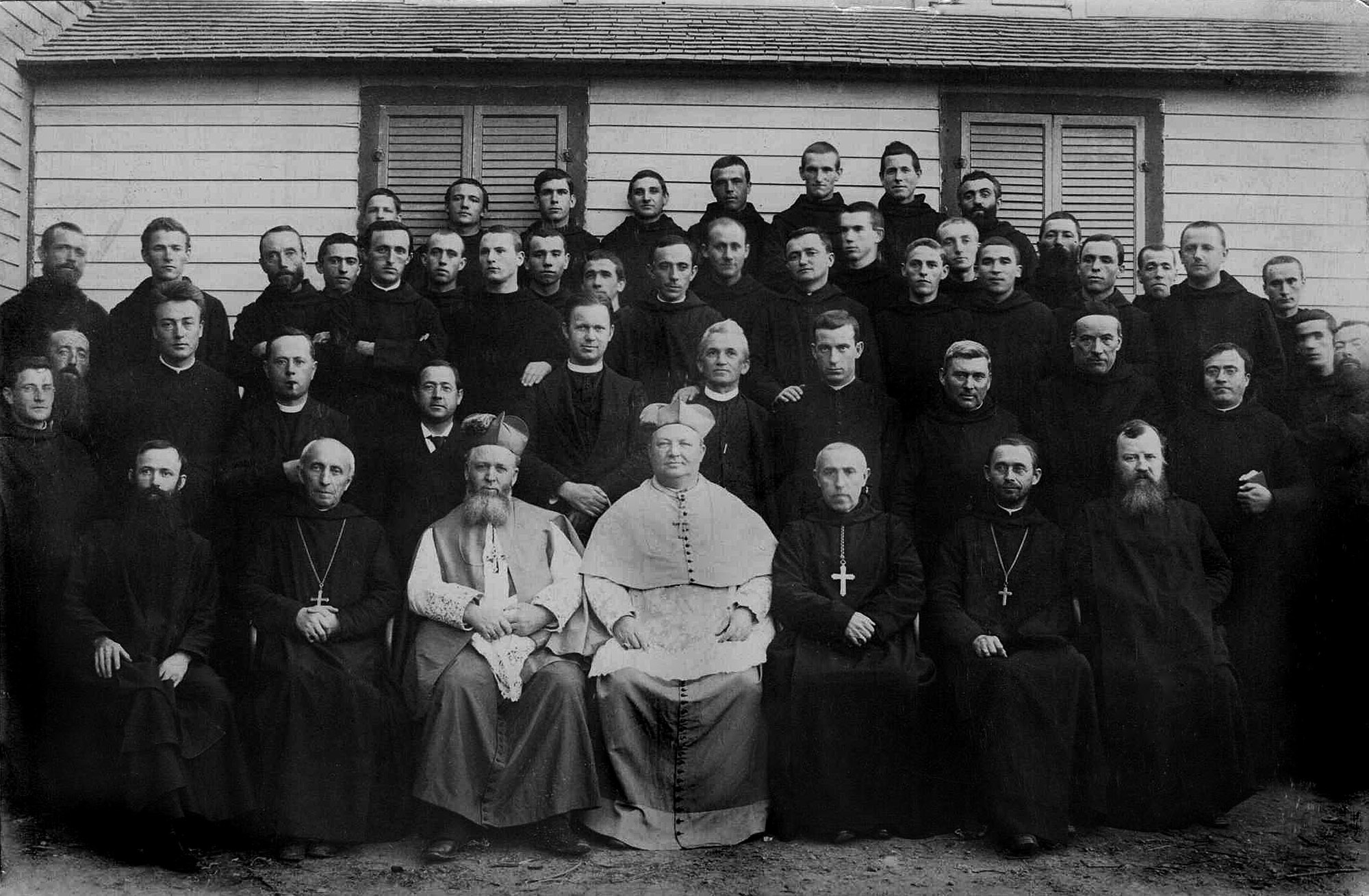 Benedictine Monks of St. Gregory's Abbey
In January 1876, just three months after they arrived in Indian Territory, Rev. Isidore Robot, OSB, and Br. Dominic Lambert, OSB, worked with a certain "Miss Atchison" to open a day school in Atoka, Indian Territory. Even before they had located a permanent home for the monastery they would found, these pioneering Benedictine Monks thus inaugurated Catholic education in what would become the state of Oklahoma. Eventually the monks would establish schools for Native American children and young adults at Sacred Heart, Pawhuska, Grey Horse, and Anadarko; schools for African American children near Lehigh, at Langston, and in the Chickasaw nation; and finally, they established, at St. Gregory's in Shawnee, what would become over the course of 100 years a high school, college, and university with several graduate degree programs.
For 142 years, the Benedictine Monks of St. Gregory's Abbey have been dedicated and untiring champions of education. They have served as founders, professors, administrators, deans, residence advisors, registrars, grounds keepers, coaches, housekeepers, resident scholars, cooks, fund-raisers, artists, donors, nurses, builders, librarians, chaplains, mentors, and advocates for their students. And if that list appears to be somewhat random, it is only because in their monastic ethos all roles of their service held a unifying dignity and purpose: that of the betterment of society and humanity, sustained by their faith in God and the value of hard work. Throughout all of this, the monks served as pray-ers: maintaining their daily schedule of communal prayer several times a day - a devotion that complemented their understanding of the role of education as being something far greater than simply utilitarian. Ora et Labora is the Benedictine motto: pray and work.
To prepare for their service, the monks sought terminal degrees and completed advanced studies at notable domestic and international universities. Monks held doctoral degrees and other terminal degrees from such institutions as Columbia, Fordham, the Catholic University of America, the University of Notre Dame, the University of Oklahoma, the University of Ottawa, the Pontifical Gregorian University, the Pontifical Angelicum University, the Pontifical Athenaeum of St. Anselm, and the Columbus College of Art and Design. It was not unusual for monks to hold multiple graduate degrees in diverse areas, combining master's degrees in philosophy, theology, library science, or fine arts with doctorates in areas such as. physics, math education, history, or business.
As monks, the Benedictines of St. Gregory's Abbey offered their expertise and services to the cause of higher education in Oklahoma with little or no financial compensation, health care or retirement benefits. Even when the monks received a "salary" for their services, the Benedictines typically contributed most of those earnings back to the college/university so that it could continue its mission to students, most of whom were from families of modest financial means, or who were the first members of their families to pursue higher education. In this way, the generations of monks represented a "living endowment'' for St. Gregory's, not focusing on their own needs, but rather doing all that they could to make a high-quality education possible for all students. In addition to this, most of the monks who served in full-time positions at St. Gregory's would spend their weekends traveling to various Catholic congregations around Oklahoma to ask for donations to the annual student scholarship fund. There are many other ways in which the monks supported the mission of higher education at St. Gregory's with their material resources or contributed services.
Even in the last year of the university, the monks offered most of their own land adjacent to thecampus of St. Gregory's as collateral for a significant bridge loan meant to buy time for the university as it sought critical financial restructuring through a USDA rural development program. Unfortunately, despite this effort, the hoped-for restructuring did not materialize. St. Gregory's University closed in 2017. But the monks had already shown their willingness to take risk for this treasured institution of higher education when others did not step forward to do so.
For over 1,600 years, Benedictine communities of men and women have preserved and enhanced the cultures of the world. Monasteries have been centers of literacy, art, architecture, music, and intercultural encounters in Africa, Asian, Europe and the Americas. Oklahoma has benefitted from such a Benedictine center of culture at St. Gregory's College and University through the vision, service and contributions of the Monks of St. Gregory's Abbey.
Through their Benedictine ethos of hospitality, St. Gregory's represented one of the most diverse communities of higher education in the state, with the student body being comprised of a wide variety of religious, ethnic, racial, cultural, and economic backgrounds. The students whose lives they touched have gone on to successful lives of generosity and integrity and are represented in countless leadership roles in education, civil service, health care, law, business, ministry, science, social work, and not-for-profit management. With the suspension of operations and the effective closing of St. Gregory's University, the monks of St. Gregory's Abbey also experienced deeply the end of an important era in their lives. For the first time in their history, the monks of St. Gregory's Abbey no longer are directly involved in classroom education. Nonetheless, the monks will continue their way of life at St. Gregory's Abbey in Shawnee and are focusing on how they will continue to be a vital force in the development of culture and the betterment of humanity.