Hall of Fame Member Biographies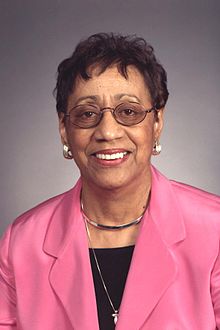 Maxine Horner
Maxine Horner was born in Tulsa in 1932 and graduated from Booker T. Washington High School in 1951. She earned an associate's degree from Wiley College in Marshall, Texas before returning to Oklahoma to pursue a bachelor's in personnel management from Langston University. Horner went on to become one of the first African American women elected to the Oklahoma State Senate and served as the democratic senator for the 11th district from 1987 to 2005, when she retired due to term limits. Horner held the position of Democratic Caucus Chair and worked on numerous committees during her tenure in the senate, chairing Business and Labor as well as Government Operations, vice-chair of Adult Literacy, and serving as a member on Appropriations, Education, Tourism, Congressional Redistricting, Rules, and Tourism.
Horner was the prime mover in the creation of the Oklahoma Higher Learning Access Program, now known as Oklahoma's Promise, a scholarship which funds students who maintain at least a C average, stay out of trouble, and whose annual family income is less than $50,000. If enrolled students keep fulfill these requirements, then the scholarship will cover the cost of tuition and books at any college, university, or CareerTech center in the state. Since the legislation was passed in 1992, Oklahoma's Promise has awarded nearly $700 million to over 75,000 Oklahoma college students. Since the initial legislation, Horner continued to sponsor bills that expanded, improved, and protected the program, successfully passing amendments to the program in 1994, 1996, 1997, 1999, and 2003. Currently, over 20,000 high school students are enrolled in the program, preparing for their future college education, and at least two sitting members of the Oklahoma House of Representatives as well as the Chief of Staff for the President Pro Tempore of the Oklahoma Senate are former recipients of the scholarship. In 2010, the Journal Record newspaper called Oklahoma's Promise "one of the Legislature's finest achievements over the last quarter century." Many leaders have come and gone, but the extraordinary work of this quiet, gentle woman from Tulsa's Greenwood District fundamentally changed Oklahoma's higher education system, hugely expanding the opportunities available for high-achieving, but under-privileged students.
In addition to the creation of Oklahoma's Promise, Horner sponsored legislation that created the Oklahoma Jazz Hall of Fame and helped secure $1.5 million in bonds to improve it. Driven by her family's love of music, Horner realized that Oklahoma's unique and relatively unknown history as an early hub of great jazz musicians deserved recognition. In recognition for her groundbreaking political work, she was inducted in the Oklahoma Women's Hall of Fame in 2007 and the Oklahoma Afro-American Hall of Fame in 1999. Horner has received numerous other awards including the Student Financial Aid Partner Award, Children First Award, Tulsa Press Club's Headliners Award, and the Pinnacle Award from the Tulsa mayor's Commission on the Status of Women.