Hall of Fame Member Biographies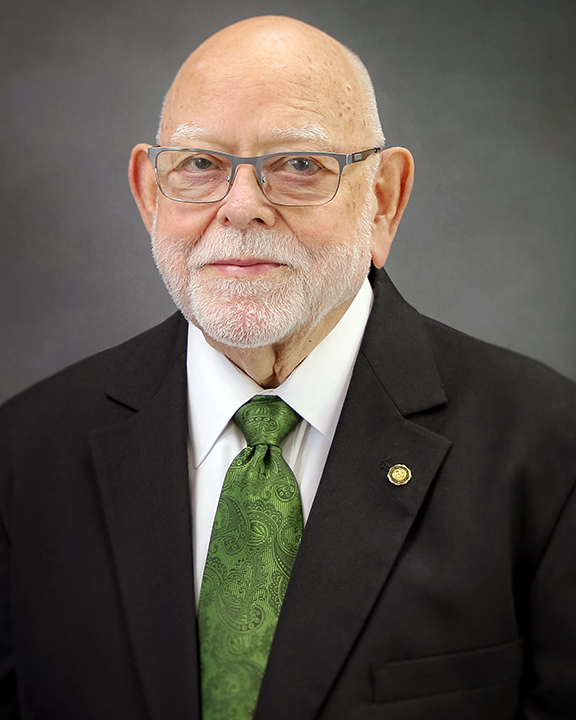 Larry Duffy
Larry Duffy earned an associate of arts degree from Western Oklahoma State College in Altus before completing both his bachelor's and master's in music education at Southwestern Oklahoma State University. He returned to Western Oklahoma State in 1978 to join the faculty as an instructor in music for both vocalists and instrumentalists. In 1990, and now serving as chairman of the music department, Duffy also assumed the responsibility of stewarding the funds in the WOSC Foundation, Inc. Five years later, he assumed the role of director of development and alumni affairs, where he served for three years before being appoint the vice president of development of alumni relations. In 2013, he was named the executive secretary of the WOSC Foundation, a position he retains to this day.
Under Duffy's leadership, the foundation's total assets have grown from $525,000 to over $7 million today. This remarkable growth has allowed for the enormous expansion from the foundation's original two endowments to its current operating structure, which features 92 endowed funds. The WOSC Foundation also manages additional designated and undesignated funds in support of the college's mission, including over 38 campus organization activity funds.
Beyond his tenure at the foundation, Duffy has had many noted accomplishments both as an academic and in his community. They include serving on the committee for the design and development of the WOSC Performing Arts wing, which includes the Herschal H. Crow Fine Arts Auditorium; directing and co-producing 15 all-school Broadway productions; organizing and managing the WOSC Young Artist Series; organizing the Oklahoma Junior College Choral Festival; serving as vice president for higher education choral music for the Oklahoma Music Educators Association and president of the Oklahoma Choral Directors Association, among many other achievements. To celebrate the centennial of the city of Altus, Duffy wrote original music for Cecil R. Chesser's play "Higher Ground," which was written for that event, while also serving as co-arranger and co-director. Duffy also established the WOSC Community Chorus' annual performance of Handel's "Messiah" and has served as the choral director for 20 years.
Duffy's civic accomplishments include nearly 40 years of service to the United Methodist Church's music ministry as both choir director and vocalist. A Rotarian since 1979, he served the Altus Rotary Club as president in 1984-85 and has worked for the organization in numerous other capacities, primarily supporting The Rotary Foundation. Duffy served as district governor for Rotary District 5770 from 2000-2001. In addition to his Rotary service, he is a past president of the Altus Chamber Ambassadors, Altus Jaycees, Shortgrass Arts and Humanities Council, Altus Band Parents, Altus Crime Stoppers and the Western Oklahoma State College Faculty Association. He has also served on the boards for the local districts of the Boy Scouts of America, the American Heart Association, the Salvation Army and the United Way.