Hall of Fame Member Biographies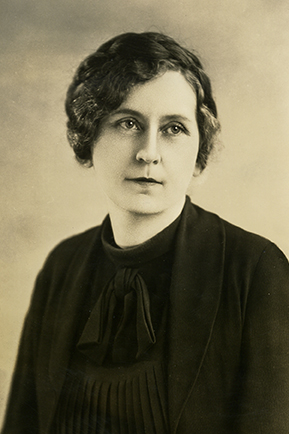 Kate Galt Zaneis
The first woman to be named president of a four-year, coeducational state college or university in the nation, Kate Galt Zaneis served as the ninth president of Southeastern Oklahoma State Teachers College (now Southeastern Oklahoma State University) in Durant from May 1935 to July 1937.
Born February 17, 1887, in Spring Place, Georgia, Zaneis moved with her family to Ardmore, Oklahoma, where she attended high school and served as the school librarian while still a student. She was also the editor of the school newspaper and loved participating in theatrical productions. After graduating in 1907, Superintendent Charles Evans immediately hired her as a teacher. She married H. P. Zaneis in 1913 and the couple moved to Wirt, Oklahoma. Two years later, she returned to Ardmore to serve as the principal of Lincoln Ward School.
In 1915, Zaneis became the superintendent of Lone Grove High School and also joined the summer teaching faculty at Southeastern Teacher's College. In 1920, while still working toward her bachelor's degree, Zaneis was elected superintendent of Carter County schools, working on rural school consolidation and educational reform. She was one of five members of the Citizen's Committee on Education for Remedial Legislation, which sought to make changes in the governance and instructional conditions of schools throughout Oklahoma.
As a supporter of Ernest Whitworth Marland, Zaneis was rewarded with an appointment to the State Board of Education after his election as governor, where she successfully fought for sabbatical leave for college faculty members. In 1935, shortly before she received her master's degree from Oklahoma A&M (now Oklahoma State University), Governor Marland named her the president of Southeastern.
Despite her brief tenure, Zaneis' accomplishments included securing Public Works Administration funds for buildings and athletic field improvements, ending mandatory political donations from faculty members, increasing enrollment 30 percent, achieving salary equity between male and female faculty, and creating student work programs. In 1937, at the height of First Lady Eleanor Roosevelt's popularity and influence around the country, Zaneis persuaded her to visit Southeastern to deliver a speech. In her syndicated diary entry that appeared in newspapers across the country, the First Lady mentioned how warmly Zaneis welcomed her into her home, writing: "We stood in President Zaneis's office and received somewhere around 2,300 people. I rarely do this, but it is also rare for a woman to be a president of a college where there are both men and women students."
In her later career, Zaneis served as the director of education for the Oklahoma Department of Public Safety. She also worked on the school lunch program through the Department of Public Welfare and later through the Department of Education.
Zaneis died September 9, 1973, in Ardmore Memorial Hospital and was buried at nearby Rosehill Cemetery. Today, Zaneis Public School in Wilson, Oklahoma is named in her honor.