Hall of Fame Member Biographies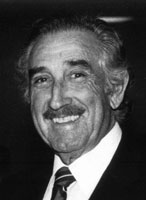 Charles Banks Wilson
Charles Banks Wilson, 94, born in Springdale, Arkansas, grew up and spent the majority of his life in Oklahoma. As he has said many times, "I have always considered Oklahoma my home and in Oklahoma is where I will be buried." In 1931 at the age of thirteen, he had the opportunity to meet and sketch Will Rogers on the stage of the Coleman Theater in Miami, Oklahoma, and he has been drawing and painting ever since. The result of this meeting was the painting, "Will Rogers from Life." This oil painting was gifted by the artist to the Smithsonian National Portrait Gallery and is now a part of its permanent collection and currently on exhibit in Washington, D.C.
After graduating from Miami High School, Charles Banks Wilson was accepted into the prestigious Art Institute of Chicago. There he was introduced to lithography and loved the medium. While attending the Institute, he met Thomas Hart Benton and the friendship they developed would last a lifetime. He honed his skills and in 1940 left the Art Institute. In 1941, his lithograph, "The Comanche," was chosen by the Associated American Artists. With the money he received for this lithograph, he married Edna McKibben, a Quapaw, Eastern Shawnee and Peoria Indian. Together they left Miami and moved to New York where began his career as an illustrator. Wilson went on to become the highest paid illustrator in the United States.
Charles Banks Wilson has illustrated over twenty-two books, including "Treasure Island," "Gid Granger," "Henry's Lincoln," "We Were There on the Chisholm Trail," and "The Mustangs." Perhaps of all of his book illustrations, Wilson is best known to Oklahomans through the history text book, "Oklahoma, Our Home." Every child using that book learned Oklahoma's history with the visual aid of Mr. Wilson's illustrations.
Surrounding the Oklahoma Capitol rotunda, Oklahoma history continues to be told through Mr. Wilson's murals: Discovery and Exploration, 1541 to 1820; Frontier Trade, 1790 to 1830; Indian Immigration, 1820 to 1885; and Settlement, 1870 to 1906. In addition, portraits by Mr. Wilson of famous Oklahomans also grace the Capitol walls. These include: Sequoyah, Will Rogers, Jim Thorpe, Robert S. Kerr, Carl Albert, Angie Debo, and Woody Guthrie.
His life has been intertwined with the American Indian. The culmination of his life long journey is represented by drawings of American Indians. Many of these drawings are in the book, "Search for the Pure Bloods." This collection is permanently housed at the Gilcrease Museum in Tulsa, Oklahoma. The drawings are more than a representation of tribes. To Mr. Wilson each person he drew was a friend who shared their time and stories with him. The book he first authored and edited in 1947, "Indian Tribes of Eastern Oklahoma," is still considered a standard.
In 1948, Mr. Wilson was hired by Northeastern Oklahoma A&M Junior College to establish an art department. For fifteen years he taught and inspired young people not only in art but in music. Ted Watts, Ruthe Blalock Jones, the late Dr. Louis Ballard and Joe Beeler were influenced by him. During his tenure he opened an art gallery on the campus. As well as exposing art to students and the community, he also had noted authors, such as Louis Zara, as guest lecturers. Today in recognition of his contributions, NEO's college foundation is establishing an Art, Cultural and Education Center in his name.
Recognized as an Oklahoma Cultural Treasure, he received the first Governor's Art Award in 1975 and was inducted into the Oklahoma Hall of Fame in 1977. His desire is to continue to inspire young people to pursue an education, to follow their dreams and most of all "do something that you enjoy." The Oklahoma Higher Education Society is proud of the superb gifts Charles Banks Wilson has bestowed on Oklahoma, the nation, and higher education, and we welcome him into the Hall of Fame.