Hall of Fame Member Biographies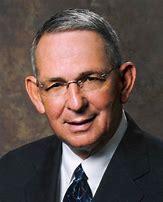 Carl Renfro
Though Carl R. Renfro was born in Oklahoma City, he was raised mostly in Kansas City, Missouri, graduating from the University of Missouri–Kansas City in 1960 with a degree in business administration. He returned to Oklahoma in 1968 when he moved to Ponca City and would later continue his education through the American Banking Association at the University of Oklahoma. The Chairman and CEO of Pioneer Bank & Trust from 1979 to 2006, Renfro has a deep sense of affection for this state and its people, having become a statewide leader in the promotion of the arts, education, economic development, and the preservation of Oklahoma history.
In 1993, Renfro cofounded the Standing Bear Native American Park and its associated Foundation in Ponca City and helped establish a committee of leaders from six Native American tribes based in the area—the Kaw, Osage, Otoe-Missouri, Pawnee, Ponca, and Tonkawa—to run the organization. Since its establishment, Renfro has raised over $7 million to erect a 22-foot tall statue of Chief Standing Bear, the first champion of Native American civil rights. The 160-acre park also boasts 2.5 miles of walking trails, eight tribal Memorial Courts, a powwow arena, an 8,000 square-foot museum, and a recently completed Founders Court and Osage By-way Tribute.
Renfro also played a major role in establishing the University Center at Ponca City, which partners with institutions around the state to increase access to higher education. Instrumental in forming the University Center Foundation to provide scholarships to needy students, he has also contributed to the Northern Oklahoma College Foundation to provide for a lectureship series for education, history, and the arts. A member of the Oklahoma State Regents for Higher Education for 12 years, he served as its chairman in 2004.
Tirelessly dedicated to public service, Carl Renfro's name appears again and again in many different capacities throughout the state. A former chairman of Cushing Valley Hope, Renfro has endowed scholarship funds for patients suffering from addiction as well as recently donating funds for a major renovation project. He has also served on the board of another addiction recovery center, Harmony House, for over 20 years. As past chairman of the Marland Mansion Estate, and as a founding board member of its Foundation, Renfro endowed funds to support the restoration and preservation of this national historic landmark in Ponca City. In 2012, he provided matching funds to renovate the facility that would become the new home of Hospice of North Central Oklahoma.
Among his many other service positions, Renfro has served as Chairman of the Oklahoma Bankers Association Senior Banking Management Committee, and as past President, Chairman and Director of local chapters of the Kiwanis Club, Crime Stoppers, the Chamber of Commerce President's Club, St. Joseph Medical Foundation, Ponca City Friends of Education, and Ponca City Economic Foundation. His many years of dedication have been recognized with the Daughters of the American Revolution Community Service Award, the Sertoma Service to Mankind Award, the Edward P. Gaylord Oklahoma Heritage Award for Preservation of Oklahoma History, and the Governor's Art Award for Outstanding Service to the Arts.