Hall of Fame Member Biographies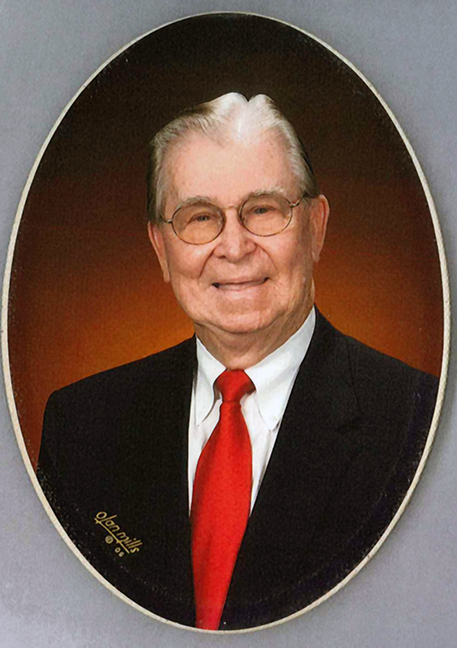 Buddy Spencer
The son of a coal miner, Buddy Spencer was born August 30, 1931, in Barling, Arkansas, and was raised in Cameron, Oklahoma, graduating from Cameron High School in 1949. He attended Southeastern Oklahoma State University in Durant for four years on a basketball scholarship and was a two-time honorable mention all-conference player for legendary coach Bloomer Sullivan. He earned a bachelor of science in history education in 1953 and shortly thereafter would serve for two and half years in the U.S. Marine Corps during the Korean War, being honorably discharged in 1956 at the rank of captain.
With a successful career in the automobile business spanning over 50 years, Spencer started his first dealership, Buddy Spencer Ford, in Durant. He has owned and operated 12 dealerships in three states before moving to Sallisaw in 1995, where his family owns and operates the Blue Ribbon Auto Group. Spencer has always been committed to the community in which he lives, serving as president of the Chamber of Commerce in both Durant and Sallisaw. He is a recipient of the Chamber Member of the Year and also the Lifetime Achievement Award from the Sallisaw Chamber. He is currently on the board of directors for the Sallisaw Chamber as well as the current president of the Sallisaw Improvement Corporation. He has been presented the Key to the City of Sallisaw and given his own namesake street in the Sallisaw Industrial Park for his economic, educational and civic contributions.
With a professional life dedicated to creating a thriving community with great jobs, Spencer knew that a strong public education system was essential, and it became his passion. He was elected to the Durant school board for 10 consecutive years and later served as its president. He also became president of the Oklahoma State School Board Association in 1981-1982, which now presents the Buddy Spencer Leadership Award in Oklahoma City each year. Actively involved in higher education at SOSU during his time in Durant, Spencer was honored by his alma matter as a Distinguished Alumnus in 1982 for his many contributions. He has served on presidential search committees and also has a scholarship fund at the institution alongside his former coach and mentor Bloomer Sullivan.
Spencer's commitment to higher education continues to this day at Carl Albert State College, where he, along with President Joe White's vision, were the driving forces for establishing a new branch campus in Sallisaw,. The chairman of the Committee for Excellence in Sallisaw, where scholarship money is raised for graduating Sequoyah County seniors, Spencer's leadership has seen the committee raise over $750,000. He and his wife Doris were inducted into the Carl Albert State College Hall of Fame in 2008-2009 for their many contributions, and the Oklahoma State Regents for Higher Education honored him with their Business Partnership Excellence Award in 2014 for his outstanding work with the college.